MPOC-20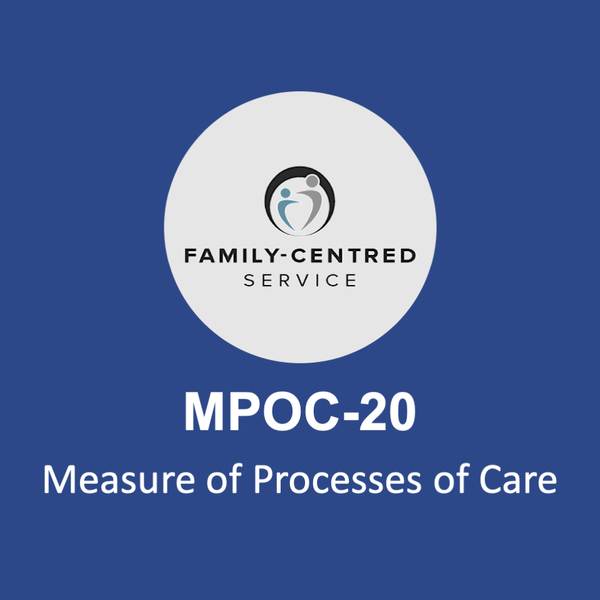 What is it?
The Measure of Processes of Care (MPOC) is a self-report measure of parents' perceptions of the extent to which the health services they and their child(ren) receive are family-centred. The MPOC-20 has 20 items – it has been shortened from the original 56-item version. MPOC-20 is a validated, reliable measure that has been used internationally in many evaluations of family-centred service. For more information on the MPOC please see our resources section.

​How do I get it?
Licensing for the electronic (online survey) version of this measure is sold separately. Please see MPOC-20 Online Survey for pricing information.
Measurement and Analysis Service
The MPOC-20 is now also available as part of CanChild's Measurement and Analysis Service! The Measurement and Analysis Service is an exciting new offering from CanChild. Our service has been developed to allow organizations to focus their resources on the important work of helping children and families while leaving the number crunching to the experts. We are currently offering this service for evaluations using the MPOC-20.
Benefits of using the Measurement and Analysis Service include:
Consultation with a CanChild member to help structure the evaluation;
Access to our online survey system reducing the administrative burden to your organization;
Analysis of your organization's data by CanChild researchers;

A standardized or customized report detailing the results of your survey, as well as recommendations on how to improve services to children with disabilities and their families.
Introduction to MPOC
The following video provides an introduction to CanChild's Measure of Processes of Care (MPOC), which looks at families' perceptions on the care they and their child receive, and highlights MPOC's relationship to family-centred service.
Preview
A sample page from the MPOC-20 can be found below: