Children's Treatment Network
Children's Treatment Network (CTN) supports approximately 20,000 children and youth with special needs in their homes, communities and schools. CTN provides intake, service navigation and coordinated service planning, assessment and diagnostic services, specialized clinics and rehabilitation services, including physiotherapy, occupational therapy and speech language therapy. CTN offers services through contracted public and private partner organizations in the education, health and community sectors.

CTN supports families in York Region and Simcoe County for all of our services through 10 service sites. It offers school-based rehabilitation services in an expanded catchment area that includes York and Simcoe, as well as Muskoka and Central Toronto. As the Autism Spectrum Disorder Diagnostic Hub for Central Region, services are offered in York, Simcoe, Dufferin, Halton, Peel, Waterloo and Wellington.

Through its innovative network model, CTN's commitment to providing family-centred care is anchored by an electronic client record that is shared across its partner organizations and provides the foundation for integrated plans of care and services. For more information about CTN, please visit https://www.ctnsy.ca/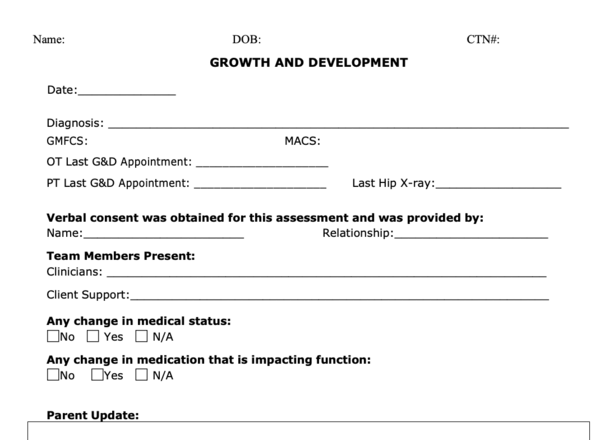 CTN's Growth and Development Template
Since September 2018, CTN has embedded the F-words into their growth and development template. CTN's ultimate vision is to ensure that they are used beyond the therapy process by embedding it in everyday language and consistently throughout all programs with the families that they serve. Their aim was to adjust their current occupational therapy and physiotherapy service delivery models to shift the focus to be more about each child as a whole, instead of the focusing on impairments. With the F-words embedded into this service document, children and families come to their growth and development appointment and talk about the six F-words. This provides therapists with a strengths-based and holistic view of the child. After obtaining the big-picture view of the child, the occupational therapist and the physiotherapist move towards specific goals, needs, and interventions based on this information.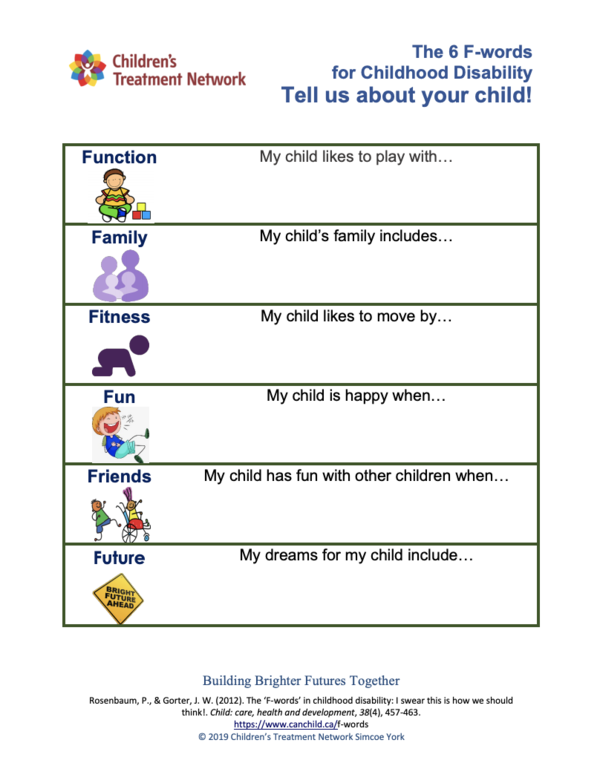 F-words Table for Infants & Kids (0-2 Years Old)
The early intervention team at CTN encountered some challenges relating the F-words to infants and toddlers. CTN recognized the opportunity and developed a document that provided families with a better understanding of how the F-words apply to children under two. Currently, the early intervention team works with families to complete this table to provide a holistic view of the infant or toddler. For example, when discussing 'Friends', this table reframes the question and prompts parents to think differently and deeply by asking, "my child has fun with other children when…"