Knowledge Translation & Exchange
Health care providers recognize the importance of using research in their day-to-day practice and the overall impact this can have on the health of their clients. However, effectively using research knowledge in practice can be challenging, as there are many barriers to this process, often leading to a "gap" between knowledge and practice. Researchers have recently begun to explore ways to bridge this gap by studying the process of Knowledge Translation (KT). Knowledge Translation involves gathering, evaluating, summarizing and sharing relevant knowledge on a particular topic. It is a complex, two-way process between those who develop the knowledge and those who will use the knowledge. Many terms have been used to describe this process including knowledge transfer, knowledge transfer and exchange, knowledge dissemination, knowledge management, and research utilization.

In the research literature, the effectiveness of many KT strategies have been studied including the use of published articles, lay summaries, training workshops, customized messages (such as email alerts) and the use of local opinion leaders, sometimes referred to as "Knowledge Brokers" or KBs. The evidence suggests some differences in the effectiveness of these strategies and it is not yet known which of these approaches, either alone or in combination, will result in the most effective knowledge translation.
What is Knowledge Translation (KT)?
Knowledge Translation (KT): Definition and Purpose
Traditionally KT has been defined as a "dynamic and iterative process that includes the synthesis, dissemination, exchange, and ethically sound application of knowledge to improve health, provide more effective health services and products and strengthened the healthcare system" (Canadian Institutes of Health Research, 2009).




At CanChild, we define knowledge translation as the creation, synthesis, and dissemination of research evidence in a user-friendly and accessible way that is relevant and meaningful for youth, families, and health care providers. This process involves two essential phases; knowledge creation and knowledge application (Graham, 2006).
Why is KT Important?
Knowledge translation is important in bridging the gap between research and practice so that patients can benefit optimally from advances in research evidence (Bates et al., 2003, Gilbert et al., 2005).




Our healthcare system invests approximately $100 billion annually in biomedical and health research, however, research findings are never fully implemented into the health-care system.




Proper implementation of research, also known as knowledge translation, helps patients, doctors, hospital managers, and policy-makers understand all of the available health-care alternatives, and their respective benefits and risks, which enables them to make informed decisions.



What are the Theories and Models of KT?
THE KNOWLEDGE-TO-ACTION PROCESS FRAMEWORK (GRAHAM, I.D. ET AL (2006):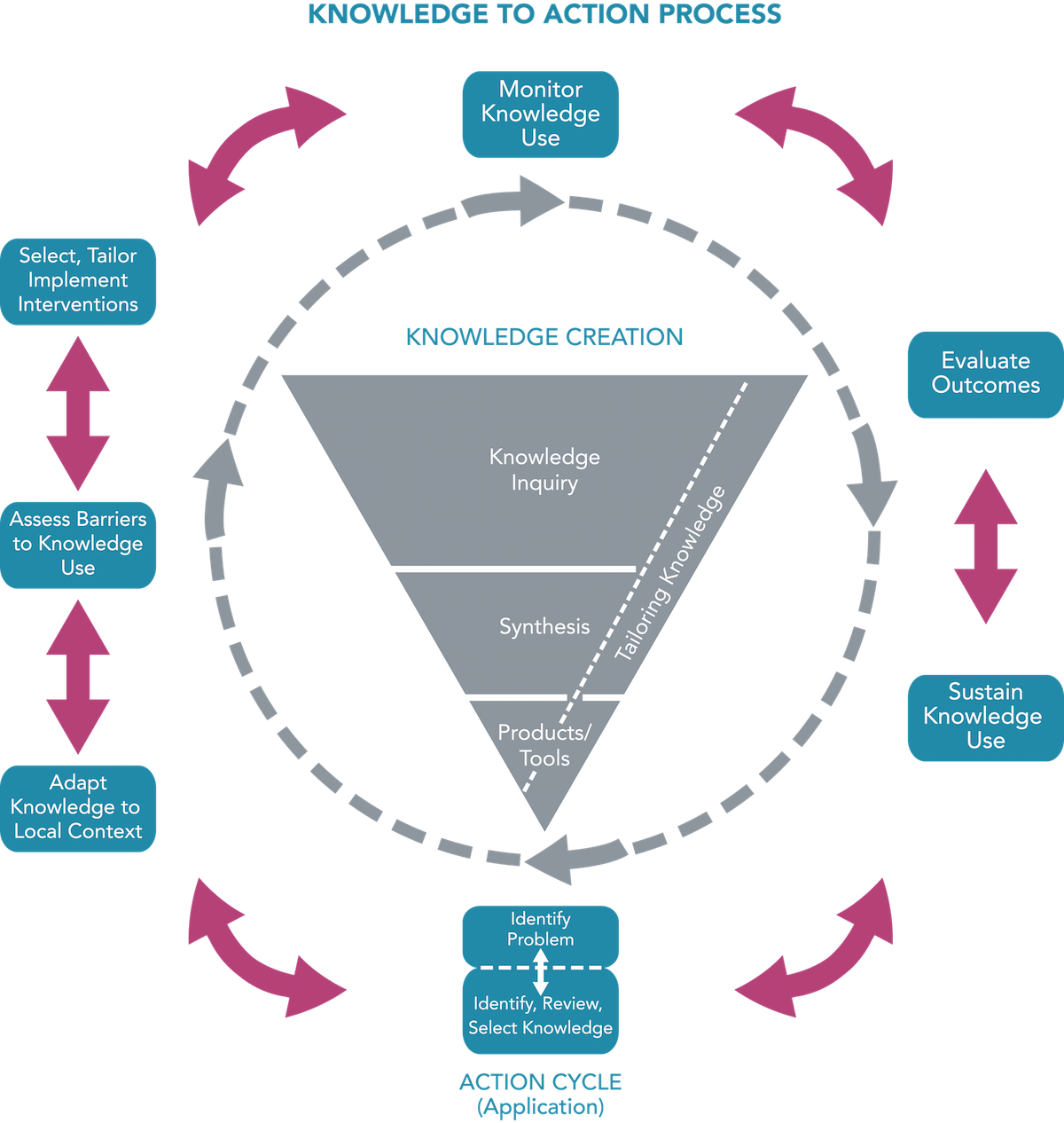 Knowledge Creation
The knowledge creation phase is represented by the funnel in the middle of the diagram. This phase involves knowledge inquiry (selection of a research question/topic of interest), and synthesis of information to produce a knowledge product/tool.
Knowledge Application
Knowledge application is the "action" phase, which involves tailoring the knowledge product/tool for implementation and dissemination. This phase also involves the monitoring, evaluation, and sustainability of the knowledge product.
For the purpose of this site, we will describe 1) how researchers and clinicians can enhance their knowledge of effective KT strategies and approaches in order to apply them within their own program of research or study, and 2) how knowledge users (youth and families) can become actively involved in the research process to facilitate knowledge translation and dissemination to meet their goals and needs.
Graham, I. D., Logan, J., Harrison, M. B., Straus, S. E., Tetroe, J., Caswell, W., et al. (2006). Lost in knowledge translation: Time for a map? The Journal of Continuing Education in the Health Professions, 26, 13, 24.
Field, B., Booth, A., Ilott, I., & Gerrish, K. (2014). Using the Knowledge to Action Framework in practice: a citation analysis and systematic review. Implementation Science: IS, 9(1), 172. doi:10.1186/s13012-014-0172-2
on behalf of the NCCDPHP Work Group on Translation. (2011). An Organizing Framework for Translation in Public Health: The Knowledge to Action Framework. Preventing Chronic Disease, 8(2), A46.
ADDITIONAL MODELS:
CIHR Model of Knowledge Translation




The Promoting Action on Research Implementation in Health Services Framework



What are effective KT Strategies?
Audit and Feedback: Healthcare professionals are given feedback (written, electronic or verbal) on their clinical performance over a specified period of time - they would then modify their practice depending on feedback.

Tailored Interventions: Interventions are planned and delivered to address specific, pre-determined barriers to changing professional practice and health outcomes.

Organizational Structures: Changes in organizational structures (task allocation, coordination and supervision) could promote the implementation of research guidelines.

Interactive Strategies: Researchers develop a partnership with knowledge users, incorporating their opinions in the knowledge production process.

Knowledge Translation Process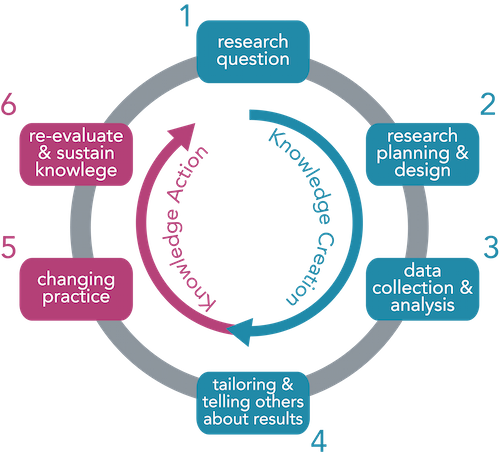 1. Research Question
A research question can stem from a personal idea, issue, or concept.
Knowledge users such as families, clinicians, researchers, and policy makers should be involved at this stage to assist with setting research priorities and ensuring that the research question is relevant and applicable.
Knowledge Translation Resources
Examples of researchers working closely with youth, families, and healthcare teams to ensure that our research is patient and family-oriented to meet the needs of clients.
This Keeping Current is more of a theoretical piece about the importance of including stakeholders throughout the research process: Keeping Current: Integrated Knowledge Translation
Including families early in the research process: Article:King, S, Rosenbaum, P & King, G. (1996) Dev Med Child Neurol Sep;38(9):757-72. Parents perceptions of caregiving: development and validation of a measure of processes
This example is specific to setting research priorities: Article: McIntyre, S, Novak, I & Cusick, A. Consensus research priorities for cerebral palsy: a Delphi survey of consumers, researchers, and clinicians. Dev Med Child Neurol. 52 (3): 270-275.
2. Research Planning and Design
There are numerous ways of designing a research study depending on the question (e.g. collecting peoples opinions and views regarding a topic, or comparing groups of people). Issues for consideration include:
a) Timeline and funding.
b) Participants, sampling, and recruitment.
c) Ethical considerations.
The primary outcome of this stage is a research protocol.
Knowledge Translation Resources
3. Data Collection and Analysis
Carrying out the procedure described in the research protocol in order to collect the necessary information that will help answer the research question.
The type of analysis used will depend on the design of the study, the way the data are collected and the question being asked.
Knowledge Translation Resources
4. Tailoring and telling people about the research results
During data analysis, it is essential to consider how and why the results are important for knowledge users or the intended target population.
It is essential that the results are tailored and presented in a meaningful manner that is relevant, user-friendly, and accessible to knowledge users.
There are multiple ways of informing people (service users, practitioners, researchers and decision makers) about research. Some examples include, but are not restricted to, giving talks, writing articles for journals, press releases, publishing information leaflets and updating information on websites.
Knowledge Translation Resources
5. Changing Practice
If research results are important and people are well informed, this can lead to a change in practice.
Knowledge translation and dissemination are important in bridging the gap between research and practice to ensure that patients are benefiting optimally from medical advances.
Knowledge Translation Resources
Article: Ketelaar, M., Russell, D., & Gorter, J.W. (2008). The Challenge of Moving Evidence-Based Measures into Clinical Practice: Lessons in Knowledge Translation. Physical and Occupational Therapy in Pediatrics. 28, (2)191 206.
Partnering for Change: Missiuna, C, Pollock,N, Levac, D, Campbell, W, Sahagian Whalen, S, Bennett, S, Hecimovich, C, Gaines, R, Cairney, J, Russell, D. (2012) Partnering for Change: An innovative school-based occupational therapy service delivery model for children with Developmental Coordination Disorder. CJOT., 79 (1), 41-50.
Knowledge Brokering: Russell, DJ, Rivard, LM, Walter, SD, Rosenbaum, PL, Roxborough, L, Cameron, D, Bartlett, DJ, Darrah, J, Hanna, SE. Avery, LM. (2010) Using knowledge brokers to facilitate the uptake of pediatric measurement tools into clinical practice: A before-after intervention study. Implementation Science 5:92 (Highly accessed article)
6. Re-evaluate & Sustain Knowledge
If a change is shown to be a good one then we want to know if it is maintained over time.
Research which is tracking forward in time (prospectively) can follow up to look at long term sustainability.
Answering a research question often leads to the emergence of more questions, which can subsequently lead to further research.
Knowledge Translation Resources
An end of grant study was funded following our original KB study (Russell et al. Implementation Science) to determine whether changes were maintained once the research study was officially over. External: Sustaining Knowledge Use
Health services research is popular, relevant to the community, and constantly in the news. This is of course important for many reasons:
We are concerned about our health and want to be well informed.




We want to know about the latest breakthroughs and discoveries.




Considerable amount of health research is funded by public agencies meaning that we - the public are paying for the research we read about, and thus have an additional personal stake in it!
The questions asked and methods that are used in any study will have a very significant impact on the nature of the study, the findings that arise from it, and what they might mean for people.
The Research Question
What is the specific question that is being asked?




Tension between the wish to ask - and try to answer big and important questions about health issues and the necessity to be focused and specific in any individual study.




The bigger the issue the more challenging it can be for researchers to study it.




When a question is very focused about a specific aspect of a specific condition, even the best and most credible findings are likely to be applicable only to a sub-group of the whole population.




When reading or listening to or reading an account about research it is important to be clear what questions were being asked, in order to decide whether that study and those findings are applicable to ourselves or our patients.




While the topic may be relevant and of interest this specific study might not apply to the issues important to us.



How is the Study Designed?
In addition to the specificity of the questions being addressed in any research, the way in which studies are designed is very important. A brief outline of some of the commonest designs may help to illustrate this point:
Randomized clinical trails (RCTs): Involves assigning people, at random, to receive one or another intervention and to look at the effect of that particular intervention over time.




Cross-sectional: Number of issues at the same time, and try to identify and then understand the relationship or association between "this" and "that". Classic example: Frequent observation of an association between childhood autism and parental distress and uncertainty about how to parent an apparently disturbed child.




Retrospective: We have looked back in time at the reports in the medical charts, or at other information, and have tried to extract the information in which we are now interested.




Prospective Study: We look forward in time, knowing specifically what we want to look at, and then collect those data systematically. Example: Want to explore the nature of the journey of parents who have recently found out that their child has a developmental disability. For such a study we would want to assemble a cohort of parents just starting that journey, and travel with them over time to learn from them about the nature, challenges and joys of the journey.



How can clients (youth, parents & knowledge users) become involved in research?
It is important for clients to recognize that research takes time and can be a lengthy process.




It is essential for clients to become actively involved in research by engaging with researchers early in the development of the research question. This is an ideal opportunity for clients to voice their needs, concerns and opinions before the research takes place in order to increase the relevance, applicability and uptake of research results.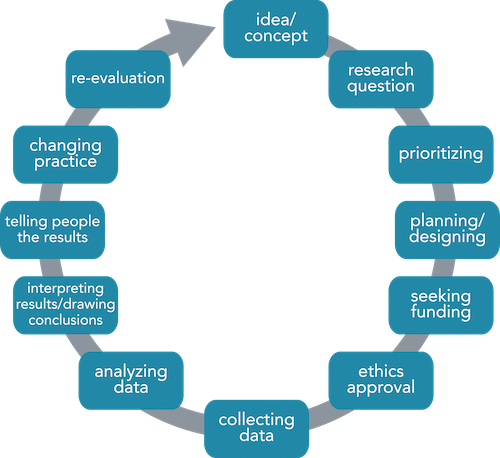 Idea/Concept
This is the starting place for any research project. Anyone can have an idea for research; it does not have to be complicated.
Research Question
All studies begins with a structured research question that includes a description of the group you are interested in, what you are going to do to the group (the intervention), what you are comparing the intervention with (control) and what you want to achieve/hope will happen.
Prioritizing
Many research questions can arise from a particular idea however researchers need to prioritize their research questions according to relevance and feasibility. Key stakeholders can be engaged in assisting researchers to decide which questions are the most important and feasible to answer.
Planning/Designing
There are lots of different ways of designing research, depending on what the question is e.g. collecting people's opinions and views about something, or comparing groups of people (for example, people who are having a treatment compared with people who are not). We also need to think about things like the timescale of our research, how many people we need to take part and how we are going to find them. The outcome of this stage is a 'research protocol'
Seeking Funding
In order to carry out a research project we have to apply for funding. Lots of organizations fund research such as the Canadian Institutes of Health Research, Partnerships for Health System Improvement, Ontario Innovation Fund and many others.
Ethics Approval
All research has to be passed by an ethics committee before it starts. The committee will think about issues such as confidentiality, benefits, and potential harm that might be associated with participation in a study.
Collecting Data
Carrying out the stages described in the research protocol for collecting the information (data) will assist in answering the research question.
Analyzing Data
Data analysis involves synthesis of the collected data to answer the research question. The type of analysis will depend on the design of the study, the way we collect the data and the question being asked.
Interpreting Results and Drawing Conclusions
Interpretation of the research findings involves thinking about what the results mean and how it relates back to the research question, as well as what is most relevant to convey to the target audience.
Telling People The Findings
To have a positive impact on your research findings, it is important to properly communicate your research to all relevant people. There are numerous methods that researchers communicate their findings such as giving talks at conferences, writing articles, posting information on websites and creating engaging videos.
Changing Practice
Research findings can lead to a change in practice if the research is considered reliable and relevant to key stakeholders. This can simply mean whether a new treatment is routinely recommended by doctors based off evidence from research findings.
Re-evaluation
Answering one research question often leads to more questions, which can lead to further research.