Tips and Strategies
Welcome to CanChild's tips and strategies page for family engagement in research! On this page, you will find suggestions and strategies that were developed for both families and researchers who are interested in the process of family engagement in research.
Tips for Parents Interested in Engaging in Research:
What does it mean for you as a parent/caregiver to participate in research?
You can help researchers decide what topics are important to study
You can help researchers determine what questions they should be asking
You will learn more about the issues that impact you and your child
You will learn new skills while being a part of the research process
You have the opportunity to help other parents and families who are on the same journey as you and your child


Things to ask if you are thinking about getting involved in a research study:
What will be my role/responsibilities?
This depends on the project and your interest and skills. For example, you may be asked to spread the word around your networks about the study and help recruit partners. Always discuss your role with the research team before you commit to participating.
How much time will I need to commit?
This will depend on the project and your specific role. It can vary from as little as a few hours to several months of regular meetings.
Will I get paid for participating?
Many research projects offer small compensation for parents' time or to cover expenses like travel costs or childcare. This can vary depending on the research project, so ensure you discuss this with the research team ahead of time.
What if I get involved but later change my mind?
You can always change your mind and stop participating at any time. You do not have to explain to the research team why you are deciding to leave the project.
(Pozniak & Tutelman, 2019)

Resources for Families and Researchers
In the section, you will find resources for family engagement in research that were developed through the Kids Brain Health Network (KBHN), CanChild and McMaster University's 10-week Certificate of Completion Course on Family Engagement in Research. We will be highlighting a different student project every month on this page, so continue checking back! If you would like to see all of the student projects developed through this course, please click here. If you want to learn more about this course, please click here.



October's Highlighted Resource: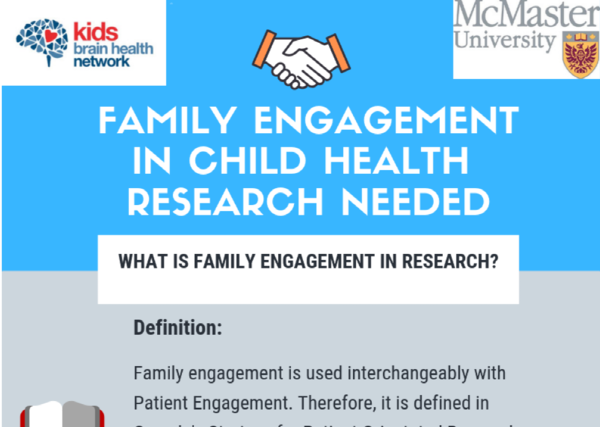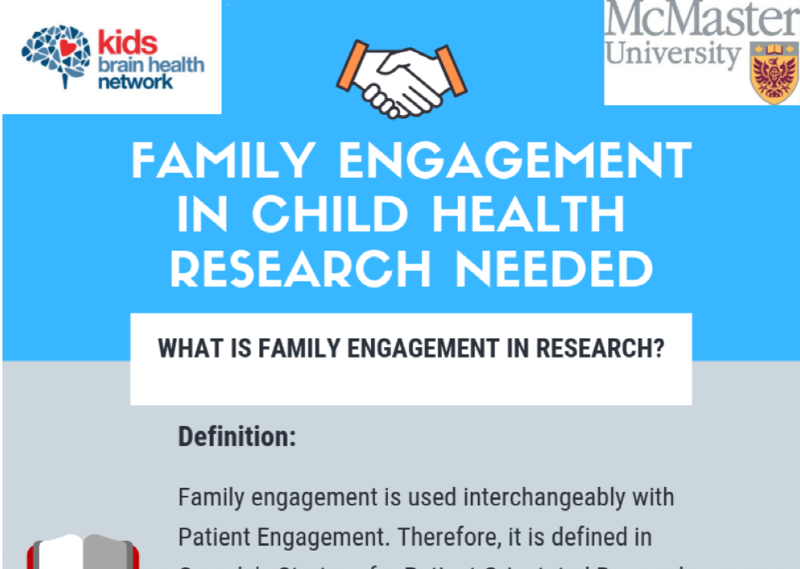 Authors: Crystal Shannon and Kirsti Mardell
Description: This infographic highlights the need for family engagement in child health research. The infographic provides a definition of family engagement in research and then outlines the reasons for researchers and benefits for families.
You can download Shannon & Mardell's infographic here.