F-Words Life Wheel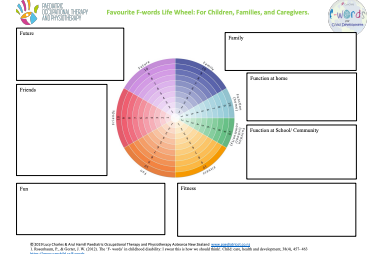 The F-Words Life Wheel is an interviewing and coaching approach to facilitate conversations and goal setting for children and their families, caregivers and educators. The F-Words Life Wheel was developed by Lucy Charles and Arul Hamill of Paediatric OT NZ, and Kelly Reynolds from Kidsplus Australia in collaboration with CanChild Canada.
In 2011, Drs. Rosenbaum and Gorter developed CanChild's six F-Words that focus on childhood development domains: Functioning, Family, Fitness, Fun, Friends, and Future. The F-Words build upon the World Health Organization's International Classification of Functioning, Disability and Health (ICF) framework. CanChild hoped to encourage people in the childhood development field to adopt a more inclusive, strengths-based way of thinking and to apply these concepts in their work with children with disabilities and their families.
Building on the work done by Rosenbaum and Gorter and CanChild's F-words research group, Lucy, Arul and Kelly developed the F-Words Life Wheel, integrating coaching frameworks with the F words.
They have found this an invaluable approach for facilitating rich and meaningful conversations, connecting with children and families, enabling meaningful goal setting, based on what is important to them within their lived in environments.
This approach is taught through workshops as the coaching component is invaluable. Link for current information on upcoming workshops is: https://paediatricot.nz/#welcome
Aim of the F-Words Life Wheel:
• To give children and families a framework and a voice to express their hopes, dreams and goals
• To prompt families/caregivers/teachers/children to think about all areas of life
• To measure current satisfaction across all dimensions of life domains in different settings
• To help identify what is going well and to develop a vision for the future, including what people would like to see more of in their lives
• It can be a mechanism to help identify steps towards a future vision through meaningful goal setting and intervention planning
In this recorded webinar, Lucy and Arul introduce the F-words Life Wheel and how it can be used in practice.