KidsInclusive/Enfants Inclus – Kingston Health Sciences Centre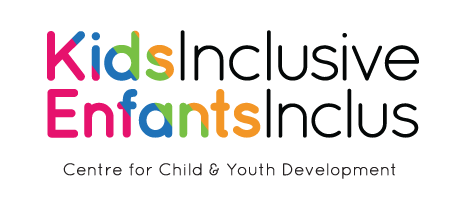 KidsInclusive/Enfants Inclus – Kingston Health Sciences Centre (KHSC) is a Children's Treatment Centre in Kingston, Ontario. One of the main services provided through KidsInclusive is Coordinated Service Planning (CSP). This allows families the chance to meet with all of the professionals who are involved in their child's care and create a common plan of care, known as the Single Plan of Care. KidsInclusive/Enfants Inclus has developed their Single Plan of Care document using the F-words framework, having each F-word embedded into the main focus areas for goal-setting for the family and the child/youth.
Currently, the KidsInclusive/Enfants Inclus – KHSC team is working towards embedding the F-words into three collective community processes:
Transition to kindergarten,
Complex special needs services and
Transition to adulthood.
The F-words framework focuses on key areas of child development – Function, Family, Fitness, Fun, Friends, Future (Rosenbaum & Gorter, CanChild, 2011). This approach supports family-centred service and collaborative planning for children with disabilities. "The F-Words Song" is a catalyst for inspiring practitioners and families to adopt a praxis fostering holistic development.
You can enjoy "The F-Words Song" here.
Coordinated Service Planning & F-Words

Helen is a 12-year-old kid who loves swimming, therapeutic horseback riding, and spending time with her family. She enjoys playing outdoors and going to camp has always been one of her biggest goals. Helen's mom, Andrea, shared how the F-words for Child Development can be used in the Coordinated Service Planning (CSP) process to set visions and goals that are meaningful to Helen and their family. The main objective of CSP is to provide a seamless and family-centred service experience. CSP connects families and professionals to co-create a Single Plan Of Care (SPOC) that will support children and youth with special needs to participate fully and achieve their goals. Service Planning Coordinators across Ontario are using the F-Words for Child Development (Function, Friends, Family, Fun, Fitness and Future) throughout the CSP process.

This video is created as part of KidsInclusive/EnfantsInclus Family Impact Film on Coordinated Service Planning – Better Together. Special thanks to Helen, Andrea, and their family for making this project possible.

Original KidsInclusive/EnfantsInclus Family Impact Film on Coordinated Service Planning – Better Together can be found here: kidsinclusive.ca/services-and-programs/coordinated-service-planning

CSP and F-words Video created by Geil Astorga, CanChild Centre for Childhood Disability Research
Music: Memories from bensound.com