Aquatic Exercise Programs for Children and Adolescents with Cerebral Palsy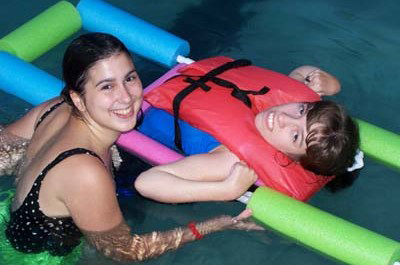 Aquatic exercise programs can provide a fun and motivating form of physical activity.
Swimming is rated as one of the most frequent activities in which youth with cerebral palsy (CP) participate; however there is a lack of structured aquatic activity programming targeting this population.
Aquatic exercises may be beneficial for individuals with CP, especially for those with significant movement limitations who may have more difficulty with land-based activities, as the water reduces weight-bearing requirements, the amount of trunk control, joint load, and the effects of gravity.
Previous studies have identified the potential benefits of aquatic exercise such as improvements in flexibility, respiratory function, muscle strength, gait, and gross motor function, but further research is needed to draw firm conclusions on the effects of aquatic programs.
How was the literature review done?
The review examined the most recent literature on aquatic exercise programs for children and adolescents with CP, dating from 2005 to 2011.
The literature review addressed the following questions: (1) What is the main focus of current research in aquatic exercise interventions in children and adolescents with CP? (2) What future directions are beneficial for this area of research to move forward?
What was found in the published studies?
A total of 18 articles were collected, of which 12 were excluded. 6 articles met the inclusion criteria and were therefore selected and analyzed in the paper.
See Appendix
What were the main findings in our review?
The majority of studies focused on higher functioning children and adolescents with CP (GMFCS levels I, II, and III).
All six studies reviewed involved aerobic training and included activities such as swimming lengths, water walking/running, kicking, movement activities in the shallow end, treading water, relay races, and shallow-water aerobics.
Three studies included anaerobic activities (See Appendix — 4, 5, and 6) such as jumping, jumping jacks, and tuck jumps and three included strength/resistance training activities such as the use of barbells and various lower extremity resistive exercises for hip, knee, and ankle musculature.
All studies reported benefits from the aerobic components of the aquatic programs but failed to comment on the effectiveness of anaerobic or strength/resistance training for this population.
A wide variety of outcome measures were used throughout the studies, with the majority of measures focusing on body function and activities. Clinically significant improvements were made in muscle strength, energy expenditure, gross motor function scores, and mobility performance in the home and community environments.
Where to go from here?
Well-designed aquatic programs that help children and adolescents with CP become and stay physically active are needed.
Future research should include:
A wider study population including all types of CP and GMFCS levels
Establishing minimal intensity levels, frequency, and duration to effect change in this population
Establishing feasible and practical outcome measures in the water
Effectiveness of anaerobic activities for this population
The translation of aquatic outcomes into improvements on land
Psychological outcomes of aquatic physical activity
Safety considerations and the presence of possible adverse outcomes during or after aquatic interventions
Investigating facilitators and barriers to participation in aquatic exercise programs (Claassen et al., 2011)
For more information please contact Dr. Jan Willem Gorter - gorter@mcmaster.ca
Glossary:
GMFCS: Gross Motor Function Classification System (GMFCS) - A 5 level classification system that describes the gross motor function of children and youth with cerebral palsy on the basis of their self-initiated movement with particular emphasis on sitting, walking, and wheeled mobility
Aerobic training: Prolonged exercise of moderate intensity, with the usual goal to improve cardiorespiratory fitness
Anaerobic training: Short duration, high-intensity activities, usually to improve strength, speed and power
Acknowledgements
We would like to thank the following people for their assistance in the development of this Keeping Current: Kyla Meadley, Erin Godkin, Rhea D'Costa, & Brittni Makund
Special thanks to Susan McCoy, Kathy Fruck, & Andrea Cross for critically reviewing this document.