Young Children's Participation and Environment Measure (YCPEM)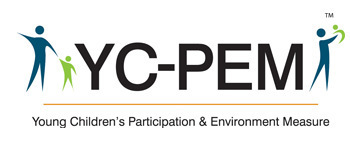 Our team member, Mary Khetani, and the Children's Participation and Environment Research Lab (CPERL) at the University of Illinois Chicago led the development of a version of the PEM assessment approach targeting younger children. This version, called the Young Children's Participation and Environment Measure (YC-PEM) (Khetani, Coster, Law, & Bedell, 2013) is designed to help parents, service providers and researchers better understand the participation of young children ages 0 and 5 years. The YC-PEM is modelled after the PEM-CY, but underwent extensive revision so that the questions and response options make sense when used by caregivers of younger children. The YC-PEM has undergone initial validation online with nearly 400 families in North America. A number of cultural adaptation and large sample research projects involving the YC-PEM are now underway.
To learn more about the instrument, please click here to listen to a recent podcast.

Ongoing Development
The YC-PEM has been adopted into the workflow of a multi-disciplinary early childhood program in the US to capture caregiver and family perspectives of their child's participation as part of their care planning process. Providers within this organization have recognized the value of the information this tool provides and have asked for a meaningful way to display the results to discuss with families. An occupational therapist pursuing their clinical doctorate with the Children's Participation and Environment Research Laboratory partnered with this clinic to harness provider feedback considering best practices in knowledge translation and visualization to lay the framework to optimize the YC-PEM electronic report. Watch the following video to learn more about the process of co-developing a YC-PEM results report.
The YC-PEM is now available for license:
The purchased version is available as a PDF and includes scoring recommendations, as well as comparative data for children with and without disabilities. Purchasing a single-licensed copy allows a service provider to make unlimited copies of the YC-PEM. Licenses are also available for organizations.